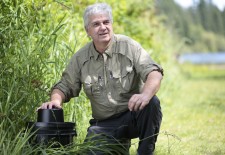 Seattle Biotech SpringStar awarded NIH Small Business Innovative Research Grant to commercialize groundbreaking trap for Zika carrying mosquitoes
Woodinville, WA , August 4, 2016 (Newswire.com) - SpringStar, Inc, a Seattle biotech company, has been awarded another $1.5 million to develop new mosquito control products, this time directed at mosquitoes that transmit Zika and other viruses such as dengue, chikungunya, west Nile virus, and yellow fever.
Awarded by the National Institute of Health (NIH), the Small Business Innovative Research Grant (SBIR) will support two years of research and development of the AGO (Autocidal Gravid Ovitrap) mosquito trap, developed with the Centre for Disease Control (CDC). This simple, effective, and extensively tested mosquito control technology could change the way communities control disease spreading mosquito populations.
"The wrong glue has shown to reduce catches as much as 90%, and the wrong design could make it a breeding ground."

Michael Banfield, President
CDC entomologists conducted a rigorous five-year study of the AGO trap, reporting up to an 85% reduction of the mosquitoes that carry Zika, with a demonstrated 50% reduction in disease. This is an unprecedented outcome. Based on the overwhelming efficacy of the trap, the CDC plans to deploy the commercialized version manufactured by SpringStar in Puerto Rico.
The genius of the AGO trap lies in its simplicity: "it's about the size of a five-gallon bucket, it's basically water, hay and glue" says CDC epidemiologist Dr. Tyler Sharp. Despite the low-tech approach, careful engineering and selection of materials means the trap can not be made at home. "Strict attention to design & materials is critical" said SpringStar President Michael Banfield. "The wrong glue has shown to reduce catches as much as 90%, and the wrong design could make it a breeding ground." The trap attracts fertile female mosquitoes by posing as a prime site to lay eggs. Once the females enter the trap, they become stuck to a glue pad and die. Not only do these traps dramatically lower mosquito populations below disease transmission thresholds, they are are an effective monitoring tool. The traps are pesticide free and only require maintenance every 2 months.
SpringStar has begun production of the traps for the CDC. Additionally, SpringStar is setting up manufacturing in Brazil. As many as 40 million units could be needed over the next year to address the global threat of Zika. SpringStar plans to ramp up production to 200,000 units a day.
The Zika virus has been linked to birth defects that are affecting thousands of babies in Brazil, Puerto Rico, and the Americas. The WHO anticipates that the virus could affect as many as four million people across the Americas; 48 countries have confirmed cases. The CDC reports 6408 cases in the U.S. and US territories, including 855 pregnant women. There is no vaccine or treatment for Zika. Up to 80% of people who contract Zika will show no symptoms. Numerous studies show conclusively that people can be contagious even before they show symptoms, and that people who are asymptomatic can still pass the disease along. It is imperative that mosquito control efforts are increased to proactively confront the disease before 70% of the US population is exposed.
SpringStar is a global leader for commercialization of products that provide effective control of mosquitoes that carry diseases. It's EPA-registered Trap-N-KillⓇ mosquito trap is available in all 1800 Home Depot stores across the US, Puerto Rico, Guam and the Virgin Islands. SpringStar has been working with local communities, governments and mosquito control leaders in Brazil, Hawaii, Puerto Rico, and other areas hardest hit by Zika and dengue. In Hawaii, major retailers are struggling to keep SpringStar's products in stock. SpringStar has recently participated as a panelist at the NIH Zika Summit and the Puerto Rico Science Trust conference on vector control.
About SpringStar, Inc.
SpringStar Inc. designs, develops and manufactures advanced pest and mosquito control products that are based on insect biology and pheromones. The result is more effective pest control without unintended environmental side effects. To learn more, visit SpringStar.net.
Source: SpringStar Inc.
Share: